Patience. Dexterity. Skill.
Just three words that come to mind when you see these amazing pieces of art. Using real, natural leaves and a sharp knife this talented artist creates incredible works of art.
Omid Asadi
Omid Asadi based in Manchester UK painstakingly uses a craft knife and needle to create these delicate images from real leaves collected in the street.
The painstaking cutting can take between a day and a month to complete a single leaf. But as you can see below the results are amazing. The beauty of the natural leaf combined with Omid's talent is nothing short of breathtaking.
I think this carved leaf below is my favorite… though it's hard to choose. I love the quirkiness of little people holding onto the seeds as they float away. Omid certainly has more patience than me!
Lorenzo Manuel Durán
"Inspired by a caterpillar I decided to cut plant leaves the same way as other artists do with paper, that idea captivated my whole mind because it looked like a great opportunity to combine two of my true passions: art and nature."
You will have to agree that Spanish artist Lorenzo Duran's work is amazing. His leaf cuts are surgical precision to create the detailed landscapes and intricate symbols he is know for.
Lin Na a Chinese artist, demonstrates her leaf carving process.  Once her chosen leaf is washed and dried, she sketches on the leaf and then starts cutting.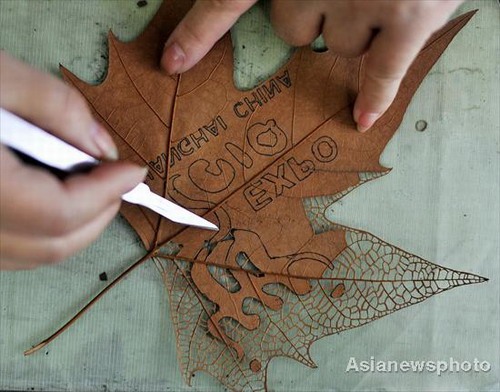 And here is the finished leaf.
Owen Mortensen
Love, love, love the geometric shapes by Owen Mortensen.
His preferred leaf is that of the Sycamore and so this S3 series stands for Selectively Skeletonized Sycamores. He cuts away the outer skin of the leaf with his own S3 process and then gently overlaps leaf edges to produce these seductive collages of the leaves.
Stay Happy
Lisa Jo